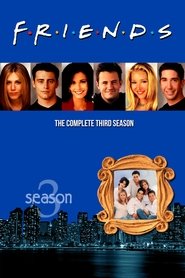 Friends Season 3 Episode 2
Ross is in a hurry to get everyone dressed for an important banquet at the museum but no one is co-operating. Chandler and Joey fight over who gets to sit in a comfortable chair. Monica acts goofy over a message on the answering machine from Richard. Rachel can't decide what to wear and Phoebe (the only one ready on time) gets a spot on her dress.
When Ross gets so upset that no one is ready that he yells at Rachel. She is so upset that she decides to not go. Ross apologizes and is ready to drink a glass of fat to prove he is sorry when Rachel accepts the apology.
Episode Title: The One Where No One's Ready
Air Date: 1996-09-26
Year: 1996