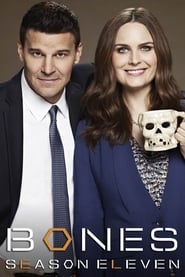 Bones Season 11 Episode 5
It's Halloween time at The Jeffersonian as the team gets a surprise visit from Lt. Abbie Mills and Ichabod Crane, who have traveled from the spooky town of Sleepy Hollow to help on a murder case of a young woman whose body is found on top of a 18th century military general's headless body. The new foursome must figure out how to work together to discover who the 200-year-old headless corpse is and how the two murders are linked. Meanwhile, Booth and Brennan come up with the ultimate Halloween pranks to play on each other.
The crossover continues on Sleepy Hollow S03E05 Dead Men Tell No Tales (II).
Episode Title: The Resurrection in the Remains (I)
Air Date: 2015-10-29
Year: 2015